handmade paper making activity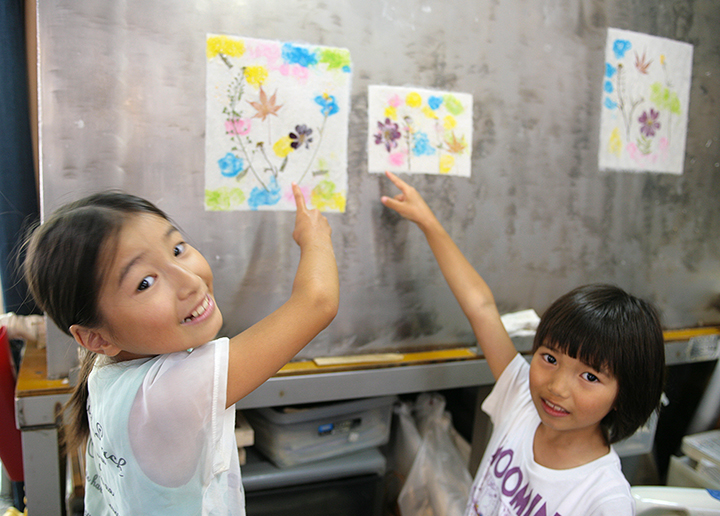 We provide "Japanese traditional handmade paper making activity " for many visitors.
Activity will be finished around 30mins(include drying paper time).
It is good activity for your children's education and memories in our journey.
Hope to enjoy quality of Shirakawa natural water and feeling of Japanese traditional culture.
*If you need to book over 6persons at same time, please contact us by Facebook or email before your visit.
# Paper size: Square (240mm * 270mm) or 2 of Postcard (210mm * 150mm)
# Before start, choose paper size you want. The following instruction is used Square paper
# After making paper, you can paint and decorate it by using color ink and dry flower.
(STEP1 – STEP8)
√ We prepare some kinds of dry flower, and you can also use it you bring.
Your paper making process will be finished at that time.
After that, our stuff will put some material on the flower(STEP9), absorb water in the paper(STEP10), they will put your paper on the heat desk(STEP11).
Drying process will be finished around 15mins, so how about shopping or trailing around Shirakawa water?
Total process time is around 30mins include drying process.
We prepare the mailing service to your hotel(by Japan Post) or your country(by EMS). Mailing fee is needed.
How about making your memories of Japanese traditional culture?
If you have any interest, please feel free to contact us before your visit.

| | | | | |
| --- | --- | --- | --- | --- |
| STEP1: | | STEP2: | | STEP3: |
| STEP4: | | STEP5: | | STEP6: |
| STEP7: | | STEP8: | | STEP9: |
| STEP10: | | STEP11: | | STEP12: |